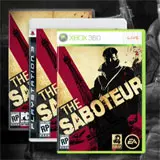 Electronic Arts has unveiled the latest project at Pandemic Studios set to debut at E3 next week.
The Saboteur puts you in the shoes of Sean Devlin, a street-tough Irish race car mechanic turned driver scrapping to make a living in Nazi-occupied France.
EA describes Pandemic's France as "a uniquely stylized version" which means do not expect complete historical accuracy. Although the trailer looks relatively faithful to the time period in its visual design.
Sean will have to "fight, climb, sabotage and race" his way through missions offered by France's sexiest and deadliest agents. No word yet on how the balance between driving and on-foot action will fall into place but there is a good chance you can add "seduce" to that list based on this footage.
The Saboteur will snipe his way into stores this fall or winter on Xbox 360, PS3 and the PC aka Games for Windows.
> >