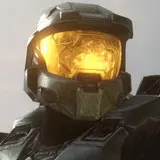 The last we heard on the status of a Halo movie was roughly a month when Halo brand ambassador Frank O'Connor was quoted as saying Microsoft still wants to make a Halo movie, will craft a story that is not a verbatim retelling of the game, but won't move forward on it until the time is right.
Though Microsoft may be waiting around, DreamWorks Studios is not. A report at Vulture indicates that DreamWorks is making a push to obtain the movie rights to Halo and plans to craft a film based on the Halo books. The books would theoretically offer a safe haven from Universal's lawyers who might come after any studio making a Halo movie based on the games for the $12 million in development costs they lost on the first Halo film project a few years ago.
DreamWorks, possibly driven by the influence of Steven Spielberg who helped get the first Transformers movie off the ground, likely saw the $200 million in sales Halo: Reach for Xbox 360 made in sales within its first 24 hours of release and understands the Halo franchise is – and has been – ripe to take advantage of. Until Microsoft is willing to work with a studio again after the first Universal and Fox debacle, a creative direction is agreed upon and Universal's lawyers can be kept at bay, the Halo movie project's future remains murky.
Head over to Vulture to catch up on the history of the Halo movie.