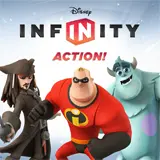 During the Disney Interactive presentation at D23 this past weekend, it was teased that the launch of Disney Infinity would be supported by at least one app that would allow players to modify their Toy Box from an iPad. That feature became official today, along with a second free app that will actually be available sooner.
Coming tomorrow, August 15, Disney Interactive will release the Disney Infinity: Action! app via the iTunes and Windows Store. This app allows users to film their own live-action movies with Disney characters like Mr. Incredible, Sulley and Jack Sparrow inserted into them. A total of 30 animations total are included such as Mr. Incredible flexing his muscles, plus props from various films like Toy Story and Tron.
Filmmakers can take their finished Disney Infinity: Action! film and post it to Facebook or Youtube, or email it, with relative ease. We saw a similar app in use by the Disney Interactive team at E3 to share photos of attendees after their got their free Disney Infinity figure. It's something kids will get a kick out of for a few hours.
The Disney Infinity: Toy Box app is more relevant to the Disney Infinity game. It allows players to fire up the app and continue editing and building their Toy Box completely separate from the console. Once the editing is complete, cross-platform transfering allows the creation to be put right back into the console version. Likewise, any item unlocked in a player's console version will become available to use in the app.
What's most interesting about this app is that Disney Interactive will allow players to purchase from more than 20 Disney and Disney/Pixar characters to play with in the app without even owning the console version of the game. That means characters can be unlocked for use in the Toy Box app for an unknown cost without buying the physical figure. Mr. Incredible will be available for free once the app is downloaded.
The Disney Infinity: Toy Box app will be free to download and use in the coming weeks.
Disney Infinity comes out this upcoming Sunday, August 18. There is still time left to pre-order Disney Infinity and get a free figure for doing so. Once August 18 comes, the free figure promotion with a value of $12.99 will end.