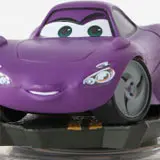 Disney Infinity will not be released alongside Pixar's Monsters University as originally planned.
In speaking to the New York Times, Disney Interactive co-president John Pleasants confirmed that the release date has been pushed back to August 18 from the game's original June 18 release. What was once a four-month window between the release of Disney Infinity and the expected October debut of Activision's Skylanders Swap Force has now been cut in half.
The reason for the release date push stems from retailers wanting the game to debut closer to the more lucrative holiday shopping season. In return, retailers are willing to work with Disney to ensure the game is given a sizable retail presence in what is otherwise a relatively calm period for new video game releases. How that shelf space is impacted by the arrival of Swap Force will be interesting to see.
"We could deliver in June if we wanted to," said Pleasants. "Will a two-month timing change help us? Sure, of course. It gives us a little more time to add bells and whistles and make sure it really sings and pops."
Please visit Disney Infinity Characters for more information and video/images of the game's various figures and Play Sets.
Source: NYT