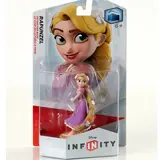 Rapunzel is one of several upcoming Disney Infinity figures that Disney Interactive have yet to reveal a release date for. Not any more as a new retail listing has not only dated Rapunzel, but offered up some unexpected details about her availability.
Earlier today a new listing for the Disney Infinity Rapunzel figure popped up at Walmart.com with a March 1, 2014 release date. In addition, the listing clearly states the figure is a "Walmart exclusive," meaning she won't be available to purchase anywhere else on that date.
Walmart already had a timed Disney Infinity exclusive with Woody this past month that ran for approximately three weeks. That's a solid educated guess for how long Rapunzel will remain a Walmart exclusive, assuming she's a timed exclusive at all. There's still a possibility she will remain exclusive to the mega-retailer until we hear otherwise from an official source.
As with Jack Skellington before her, Rapunzel is not connected to a Disney Infinity Play Set and will only be playable within the Toy Box. She will come with her own short mission themed to the Rapunzel film from which she's based that can be accessed via the Toy Box menu.
Rapunzel's weapon is a cast iron skillet "for power-slamming obstacles," and she has a "frying pan bash" attack that goes with the skillet.
Click here to pre-order the Disney Infinity Rapunzel figure at Walmart.com.