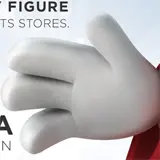 A few weeks ago, Disney Interactive promised that new Disney Infinity figures would be revealed in the D23 Arena and one of the new figures would be handed out for free to all in attendance. By pure coincidence a European retailer leaked multiple new figure listings including one for Mickey Mouse in his Sorcerer's Apprentice outfit.
In putting two and two together I had always assumed that Mickey Mouse would in fact be the Disney Infinity free figure distributed at D23. Now that assumption is essentially confirmed via a teaser image that Disney Interactive distributed this evening.
The teaser features the hand of Mickey Mouse and the sleeve of his signature Sorcerer's Apprentice robe, accompanied by the text, "See ya real soon… Get your unannounced Disney Infinity figure months before it hits stores."
The figure will be distributed on Sunday, August 11 at noon in the D23 arena. Expect massive lines for it and a flurry of Ebay auctions to commence shortly thereafter. If you must have a Disney Infinity Mickey Mouse, please remember that it will get a retail release later this year and likely will be made in large numbers. Patience will pay off.
We will pass along images of the Disney Infinity Mickey Mouse figure and any other new announcements on Sunday.
Source: Disney Interactive