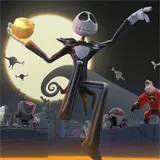 Jack Skellington from Tim Burton's The Nightmare Before Christmas is the first Disney Infinity figure to be released post-launch and likewise the first to not be compatible with a Play Set. Even so, this wave 2 Disney Infinity is a winner and the best figure available for the game to date.
Disney Interactive released Jack Skellington this past Saturday, October 5 exclusively at GameStop. He will also be available to purchase at other retailers such as Target, Toys R Us, Amazon and Walmart, but that won't happen until the timed exclusive window for GameStop closes on October 29.
As with the other slender Disney Infinity toy figures such as Violet and Mrs. Incredible, Jack Skellington doesn't feel like one of this lanky limbs will snap off when you look at them. He's well constructed and strikes a regal pose befitting the Pumpkin King of Halloween Town.
When the Jack toy figure is first placed on the Infinity Portal he speaks his little introduction before trotting off into play. The voice actor behind this greeting is none other than Chris Sarandon, the same gentleman who voiced Jack in the feature film. Jack's unique voice is half of his character's personality so bringing in Sarandon for Disney Infinity adds to the authenticity of the character.
In-game Jack comes equipped with a pair of attacks. The first is a scare attack that works similarly to Sully and Mike's attacks. This is great for up-close combat to simultaneously inflict damage and create a little breathing space as the enemy gets pushed back a little. The second attack is ranged and has Jack tossing explosive pumpkins that detonate on impact with any surface or person. It can be a little tricky to hit a target with there but they definitely come in handy.
Though Jack isn't compatible with a Play Set, he can be used in the Toy Box and comes with an exclusive Toy Box adventure called "Jack's Nightmare." This adventure sends three waves of enemies at Jack that he must survive and it's no easy task, especially for novice players. Though a Play Set for The Nightmare Before Christmas would have been preferred, music and aesthetics from the film in this adventure make this play better than a typical survival arena challenge.
If you can't find the Disney Infinity Jack Skellington figure at your local GameStop, Jack can be purchased online for $13.99 here at GameStop.com.