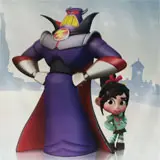 It became immediately clear upon stepping into the Los Angeles Convention Center for E3 2013 this past week that Disney and Disney Interactive have a lot riding on Disney Infinity, the upcoming second big entry into the "Toys to Life" gaming segment that Activision and Toys for Bob gave birth to with the brilliantly conceived game Skylanders: Spyro's Adventure. An array of massive banners lined the entire hallway linking South and West Halls. Additional character standees were positioned at each doorway into South Hall where Disney Interactive set up their booth. Even from outside the doors you could spot a 1:1 scale Cinderella's Carriage and Monster Truck mash-up sitting on front of a massive scaled down version of Cinderella's Castle.
Visual stimulation can only take you so far, especially in the circus that is E3 where crowds are overwhelming and the ability to successfully attract attention the hottest commodity. While large props adorned the entrance to the Disney Interactive booth, it was a clever promotion within the booth that will prove fruitful when Disney Infinity officially launches on August 18.
Attendees patient enough to endure a line that snaked almost entirely around the Disney Interactive booth were given the opportunity to stand in front of a flat-screen television with a big red button underneath it. Think the "No Whammies" button from the old game show Press Your Luck. It's big, inviting, and those eager to get their prize smacked it before understanding how the game… err… promotion worked.
The screen was broken into twelve squares, and within each square was a Disney Infinity character or Play Set. By my count each and every one of the Disney Infinity launch day figures (sans three packs) and Play Sets were represented on the screen. These included Mike Wazowski, Randy, Davy Jones, Captain Barbossa, Mrs. Incredible, Violet, Dash, Syndrome, Mater, Francesco Bernoulli, the Cars Play Set, and the Lone Ranger Play Set.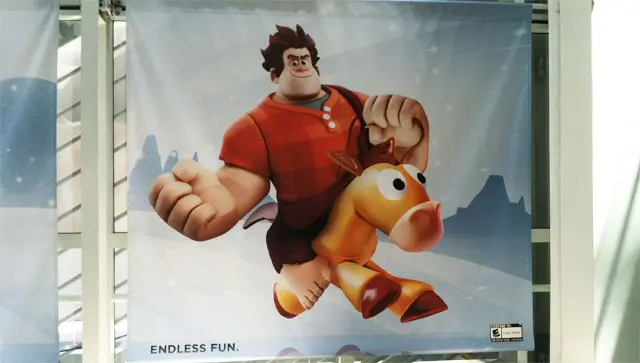 Just like in Press Your Luck, a highlight jumped around the screen from square to square in a random sequence. Players with fast reflexes could smack the red button the second the figure or Play Set they wanted was highlighted. Others just smacked it wildly and were happy to play.
The selection made resulted in a roughly one-minute video about the character or Play Set chosen playing while a Disney Interactive representative talked through the game's basic points. At the conclusion of the video, the toy from the video spit out underneath the screen like a vending machine. It was a brilliant effect, even if some poor guy was behind the wall having to deliver toys approximately once every 20 to 30 seconds.
Once the toy was acquired, a photographer was right there to snap a picture of each "winner" with their prize, then immediately share said picture on Facebook, Twitter, or e-mail it to a friend.
The social sharing surely helped build Disney Infinity awareness during E3, but it's the toys that could potentially generate the biggest impact. Let's conservatively assume one toy was issued per minute across the three vending machine stations that were set up. There were 21 total hours of E3. At 60 toys per minute, a total of 1,260 toys were issued. With the Lone Ranger and Cars Play Sets containing two figures each and each member of the media receiving a figure after their booth tour, I would estimate at least 1,500 figures were given away at E3, if not 2,000 or more.
Now there are thousands of final retail Disney Infinity figures in the wild. Trading them is already underway, as I witnessed first hand when someone got the Lone Ranger Play Set but wanted Davy Jones instead, so he waited until someone else got that one and initiated a successful swap.
The Disney Infinity figures are neat, sturdy and highly detailed toys by themselves, but ultimately useless without the game to play them on. I have two myself and now really want the game to take them for a spin in. There are probably at least a thousand people like me in the same boat, if not many more. From Disney's perspective, that's marketing gold.