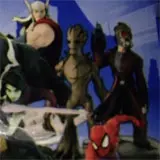 The fine folks at Avalanche Software and Disney Interactive are hooked on a feeling as all five members of Marvel's Guardians of the Galaxy will be available as character figures in Disney Infinity 2.0 Marvel Super Heroes following a brief Groot and Rocket cameo in the first game trailer.
The confirmation comes from the Disney Infinity 2.0 Power Disc packaging that clearly shows Star Lord (Chris Pratt), Gamora (Zoe Saldana), Groot (Vin Diesel), Rocket (Bradley Cooper) and Drax the Destroyer (Dave Batista) in figure form on the front. The Power Disc package was acquired at E3 on Tuesday and shared on Twitter this morning.
Though not confirmed, the odds are extremely favorable that Guardians of the Galaxy will be the third Play Set for Disney Infinity 2.0 given the entire team was granted the plastic figurine treatment. Like the Ultimate Spider-Man Play Set and supporting figures, two figures would come with the Play Set while the other three would be sold as single pack figures. With Guardians of the Galaxy bowing in theaters on August 1, the timing is perfect to release a Play Set with the game's launch on September 27.
Disney Interactive mentioned during the Disney Infinity 2.0 reveal event that we could look forward to 18 Marvel Super Heroes figures playable in the game. Right now we are at 16, so it will be interesting to see if the Disney Infinity 2.0 super hero character list grows any larger.
As for non-super hero characters, thus far Meridia and Maleficent have been announced and Stitch is rumored given his cameo in the game announcement trailer. I suspect that Disney Interactive will pull the blanket off the remaining non-super hero Disney Infinity 2.0 figures and potentially Play Sets at the D23 event in August, in the same manner that they unveiled Anna, Elsa, Rapunzel, Sorcerer's Apprentice Mickey and others last year.
Source: Twitter