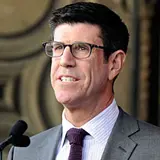 The Walt Disney Company movie studio chief Rich Ross formally resigned on Friday effective immediately, ending a less than three-year stint in the top theatrical post at the Mouse House.
Ross' resignation comes in the wake of back-to-back box office bombs in the form of Mars Needs Moms in 2011 and John Carter earlier this year. John Carter failed to top $70 million domestically despite its hefty reported $250 million production budget. Disney ended up writing down a whopping $200 million loss.
Disney CEO Bob Iger initiated the Ross era in October 2009 when he promoted the TV executive to run the studio's theatrical arm. Shortly after taking the position, Ross cleaned house of many Disney executives, then hired an outsider in MT Carney to run marketing. She has since departed as of January 2012.
During Ross' television days running the Disney Channel, he was responsible for such tween hits as Hannah Montana and High School Musical. On paper he seemed like the perfect choice to take Disney's theatrical business to the next level.
Yet Ross' days at Disney failed to yield similar successes beyond the carryover franchise Pirates of the Caribbean. Prom was an attempt to carry forward the tween experience from the Disney Channel to theaters and it bombed. The aforementioned multi-one hundred million bombs didn't help Ross sleep at night, either.
As Ross steps down under amicable terms, he leaves a pair of high profile projects that are currently in production and equally as risky as previous failures. Disney is hoping Johnny Depp will find Pirates success in the $200 million western The Lone Ranger. Sam Raimi's Oz: The Great and Powerful is also not cheap at reportedly $150 million.
Ross is leaving right as Disney's first Marvel release The Avengers will debut with expectations of threatening box office records. The success of Marvel's Avengers build-up is a credit to Marvel itself; Disney only purchased the studio after Kevin Feige had already architected the billion-dollar franchise from the ground up.
Now Disney must fill Ross' shoes with a studio veteran who can help right a broken ship. Marvel's Feige is an interesting candidate considering his theatrical success and understanding of appealing to a broad demographic with big budget projects. As of now, Disney has made no public comments about who Rich Ross' successor might be.