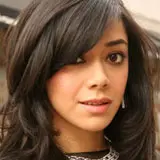 Aimee Garcia will take a break from playing Dexter Morgan's nanny on the Showtime series Dexter to appear in Jose Padilha's remake of RoboCop.
Per THR, Garcia will play one of the scientists responsible for turning gunned down police officer Alex Murphy (Joel Kinnaman) in the cyborg law enforcement officer RoboCop. She will likely work alongside Gary Oldman who has been tapped to portray RoboCop's main creator.
RoboCop began production less than a week ago and is already stirring up all sorts of negative buzz. First a leaked copy of the script was blasted in an online review. Then, just a few days ago, someone snapped some pics of Kinnaman in the RocoCop armor that weren't flattering in the least.
RoboCop won't be in theaters until next year, but you can catch Aimee Garcia on the small screen when Showtime premieres Dexter: Season 7 on Sunday, September 30.
Source: THR