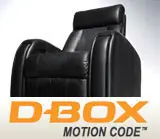 Electronic Arts' Black Box studio has entered into an agreement with D-BOX Technologies that will enable D-BOX Motion Code to be specially created for EA's Need for Speed Underground.
This marks the first foray by D-BOX into the world of mainstream gaming and won't be the last. D-BOX has shown a desire to penetrate the gaming market with their Motion Control systems, and we hold out hope that technology will expand beyond Blu-ray and onto PS3 and Xbox 360.
"We are very pleased and thrilled about the idea of working with Electronic Arts; one of the world's leading interactive software company" stated Claude Mc Master, President and Chief Executive Officer of D-BOX in the announcement. "It is a first significant step to integrate D-BOX Motion Code(TM) in the video game market. Through this licensing agreement, we are in a position to raise the awareness of millions of video game players worldwide to the D-BOX Motion immersive experience which is perfectly adapted to their needs and expectations." Mr. Mike Rayner, Chief Technological Officer at Black Box, developer of Need for Speed, adds: "The D-BOX technology will help bring the intense chase and over-the-top action driving sequences found in Need for Speed Undercover to life. For the first time, Need for Speed fans will experience what it feels like to be in the driver's seat as cars whip around corners and weave in and out of traffic."
I've been of the opinion since first experiencing and owning a D-BOX Motion Control system since earlier this year that gaming is a perfect match for the technology. Not just flying and racing games, either. First-person shooters and action-adventure games will greatly benefit from a D-BOX rig.
Need for Speed Underground will ship November 18 for the PC, Playstation 3, Xbox 360 and other platforms.