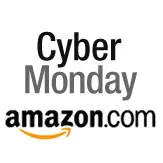 Cyber Monday is off and running with mega online retailer Amazon.com leading the charge.
With Wii, PS3 and Xbox 360 video games being a hot item this holiday season, Amazon has created a separate video game section for their Cyber Monday deals to help keep track of all the sales and the lightning deals that come and go. For example, right now Guitar Hero 5 is on sale for 50% off for the next four-and-a-half hours or while supplies last.
Upcoming deals for later today are hinted as including the new Wolfenstein game and Transformers: Revenge of the Fallen. The potential biggie is a limited edition console bundle that might be the Call of Duty Modern Warfare 2 one.
Click here to browse or shop Amazon's Cyber Monday video game deals.