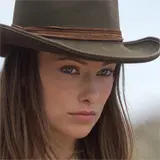 Harrison Ford dons a hat again in Jon Favreau's Cowboys and Aliens, next summer's unlikely battle between purveyors of old western values and unidentified flying objects.
The first trailer via Yahoo! plays more like a truncated extended sequence than a flurry of scattered shots. We meet Daniel Craig as Jake Lonergan, an outlaw who awakens in the desert with a strange device attached to his wrist. Jake finds his way into a small town and meets Olivia Wilde in a small bar. Soon afterward Jake is taken into custody by Harrison Ford as Col. Woodrow Dolarhyde and is being readied for transport.
Up until this point the trailer presents Cowboys and Aliens as a classic western tale. For those unaware of what it is the next several scenes will come as a shocker. Alien spacecraft appear in the night sky and begin firing on Dolarhyde and his men. After a quick montage including the already infamous scene in which Olivia Wilde strips down to her birthday suit and some human-nappings, Jake gives the aliens a taste of their own medicine.
Cowboys vs Aliens opens everywhere on July 29th, 2011. Watch the trailer below and then check out the images below that.