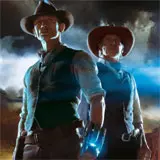 Jon Favreau's Cowboys & Aliens starring Daniel Craig, Olivia Wilde, Harrison Ford, Sam Rockwell, Ana de la Reguera, Adam Beach, Paul Dano, Clancy Brown, Keith Carradine and Noah Ringer will appear in an all-new extended cut when it debuts on Blu-ray and DVD on December 6.
Cowboys & Aliens was expected to explode into theaters in late July with a $50 million or higher opening weekend. While it's $36 million opening wasn't disastrous, it fell well below expectations given the film's $163 million budget, stars attached, "from the director of Iron Man" tag, and spiffy visual effects. By the end of its theatrical run, Cowboys & Aliens failed to top $100 million domestically, and nudged past the production budget once overseas ticket sales were factored into the overall gross.
Universal Studios Home Entertainment is including a new extended cut of the film exclusively on the Cowboys & Aliens Blu-ray and DVD combo pack release. The cut, which runs 2 hours and 16 minutes versus the 1 hour 59 minutes theatrical cut (also included), will not be on the standalone DVD release.
Cowboys & Aliens on Blu-ray will be presented in 2.4:1 1080p video and 5.1 DTS-HD Master Audio. Over two hours of bonus features include the following:
IGNITING THE SKY: THE MAKING OF COWBOYS & ALIENS —A comprehensive, behind-the-scenes look at the production that invites viewers on set to meet the filmmakers and cast as they create this one-of-a-kind action film. In revealing conversations, Jon Favreau, Steven Spielberg, Ron Howard and Brian Grazer, as well as stars Harrison Ford, Daniel Craig and Olivia Wilde, share their insights about the movie. Also featured are visual-effects powerhouses Legacy Effects and ILM, which join forces once again to push the technological envelope beyond anything ever seen before on screen. It includes:

FINDING THE STORY — Cowboys & Aliens, based on the graphic novel by Scott Mitchell Rosenberg, has been in development for over a decade. Filmmakers, writers and cast explain why this particular team of Hollywood heavyweights hit the right note to bring this to the big screen.
THE SCOPE OF THE SPECTACLE —A look at the team behind the camera for the film's massive New Mexico shoot, as the stars ride horses, shoot guns, jump from explosions, and get yanked 80 feet in the air! Director Jon Favreau stages unforgettable action set-pieces as cameras capture every moment, while legendary stuntman and Cowboys & Aliens' second unit director Terry Leonard brings a lifetime of experience to the big-screen stunts, from legendary moments in John Wayne classics to doubling for Harrison Ford in Raiders of the Lost Ark.
OUTER-SPACE ICON — Take a closer look at the creation of a new, terrifying alien design from Legacy Effects and Industrial Light and Magic.
Blu-ray Exclusives:
A CALL TO ACTION — A profile of prolific actor, writer and director Jon Favreau featuring on-set video diaries shot throughout the production.
ABSOLUTION — A look at the practical re-creation of a dusty Old West mining town, the town's inhabitants and the amazing ensemble of actors who portray them, as well as an exclusive look at the film's meticulous production and costume designs.
CONVERSATIONS WITH JON FAVREAU – Jon Favreau hosts candid interviews with cast and crew, including:

Daniel Craig
Harrison Ford
Olivia Wilde
Steven Spielberg, Ron Howard and Brian Grazer
Alex Kurtzman and Roberto Orci
Damon Lindelof

FEATURE COMMENTARY WITH DIRECTOR JON FAVREAU
U-CONTROL: Universal's exclusive feature that lets the viewer access bonus materials without leaving the movie!
And with UNIVERSAL'S SECOND SCREEN, viewers can enjoy an innovative and interactive viewing experience, that allows them to control, interact and explore Cowboys & Aliens with groundbreaking new features right on a networked tablet or computer, in synchronization with the movie on the television screen! While the movie plays, experience features such as:

Flick View: Interact with the movie, move content from the Tablet to the TV screen, and compare storyboards, animatics, and other executing content by "Flicking" them from on their tablet to their TV screen, simply by gesturing their fingers upwards on their tablets.
Scene Explorer: Viewers select various progressions of the same scene including storyboards, pre-visualizations and behind-the-scenes.
Behind the Scenes: Viewers get an all access look at the making of the film featuring interviews with cast and crew.
Storyboards: Viewers will be able to take a closer look at the storyboards created for some of the amazing sequences in the film.
3D Models: Viewers can take a look at the aliens and otherworldly gadgets in Cowboys & Aliens by the touch or swipe of their fingers. You can move the models in a 360 degree view, get tech specs and more.

BD-LIVE: Access the BD-Live Center through your Internet-connected player to access the latest trailers, exclusive content, and more!
pocket BLU App:
Click here to pre-order Cowboys & Aliens on Blu-ray and DVD combo for $23.99 at Amazon.com, 31% off the $34.98 list price.