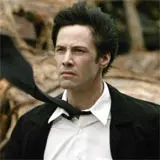 Warner Home Video has announced the graphic novel adaptation of Constantine starring Keanu Reeves is coming to Blu-ray Disc on October 14.
Constantine had been released on June 6, 2006 exclusively on HD DVD due to its In-Movie Experience picture-in-picture feature which, at the time, Blu-ray players were incapable of handling.
Constantine on Blu-ray will be presented in widescreen 2.4:1 1080p video and likely the identical 5.1 Dolby TrueHD audio track found on the HD DVD, though that is currently speculation only.
All the supplemental features found on the HD DVD have carried over to Blu-ray and are outlined below.
IME: During the feature, Director Francis Lawrence will lead an exploration of the plot, stunts, characters and filmmaking process of Constantine
Commentary by Francis Lawrence and Akiva Goldsman – Director Francis Lawrence and Producer Akiva Goldsman discuss the film scene by scene)
Commentary by Kevin Brodbin and Frank A. Cappello – Screenwriters Kevin Brodbin and Frank A. Cappello discuss the different written forms of Constantine
Channeling Constantine – An exploration of the ensemble cast)
Conjuring Constantine – A look at the comic book origins and how the story was brought to the screen)
Director's Confessional – Francis Lawrence discusses the making of his first feature)
Collision with Evil – Revealing the process of creating the scavenger crash)
Holy Relics – The propmaster unveils Constantine's arsenal)
Shotgun Shootout – The choreography of Constantine's climactic gunfight)
Hellscape – Creating Constantine's Hell)
Visualizing Vermin – A CG creature comes to life
Warrior Wings – Creating the half-breed's wings
Unholy Abduction – From pre-production to post, Angela's abduction is explained
Demon Face – A time-lapse look at creating the Demon Balthazar
Constantine's Cosmology – Noted myths expert Phil Cousineau explores the origins of Constantine's tale
Foresight: The Power of Pre-Visualization
Optional Commentary by Francis Lawrence -The preliminary process of creating shot by shot animatics for complex scenes
A Writer's Vision – Screenwriter Frank A. Cappello explains an early animation he created to help him visualize aspects of Constantine
Deleted Scenes – Optional Commentary by Francis Lawrence

Chas bowls
Surveillance video
Border patrol
Hennessey's apartment
Demonic tryst
Original Vermin attack
Background check
Password
Demonic escort
Constantine's past
Light command
Last chance
Demon's pardon
Alternate cemetery ending

Passive Music Video by A Perfect Circle
Teaser Trailer – HD
Theatrical Trailer- HD
Constantine on Blu-ray will carry an SRP of $28.99. Check back regularly for high resolution cover art and Amazon.com pre-order information.