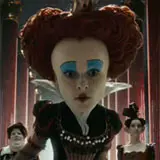 The Mad Hatter won Disney's Facebook competition and debuted the teaser trailer for Tim Burton's Alice in Wonderland this afternoon after it was shown to Comic-Con attendees earlier today in 3D.
Tim Burton's Alice in Wonderland stars Mia Wasikowska as Alice, Comic-Con crasher Johnny Depp as the Mad Hatter, bulbous headed Helena Bonham Carter as the Red Queen, and a glowing Anne Hathaway as the White Queen.
During Depp's short appearance at Comic-Con as a surprise guest of Burton, the actor revealed he cannot see in 3D. A strange idea for the film's star but I suppose it is what it is.
In addition to the standard version of the teaser trailer below, I've included links to the high definition versions as provided by Disney. Enjoy!
Alice in Wonderland trailer in 1080p HD