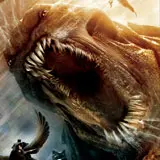 Having just formally announced Clash of the Titans starring Sam Worthington as Perseus will be released in 3D, Warner Bros. has whipped together a series of new posters to help spread the word to the masses.
The posters feature Perseus on Pegasus taking on the Kraken; the three Stygian Witches; Perseus and friends battling The Scorpioch; Ralph Fiennes as Hades and Liam Neezon as Zeus with the baddies; and The Scorpioch up close and personal.
The first one I saw was the Kraken and my instinctual reaction was, "wow, he looks a heck of a lot like the Cloverfield Monster." The dark beady eyes. Huge mouth that opens wide enough for any dentist to probe endlessly. And big long sharp teeth that Little Red Riding Hood would be at a loss for words to describe.
Don't believe me? Check out the comparison image below. They could be long lost seafaring cousins.
For HDR reader "JustinGGX," the Kraken reminds him of the monster from Resistance 2 on Playstation 3. The eyes are a different color but that huge smile is unmistakable.
High resolution versions of all five new posters are available over at UGO.