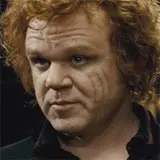 The first trailer for Universal's Cirque du Freak: The Vampire's Assistant has dropped with Nickelodeon style visual effects and John C. Reilly in an outlandish orange wig.
In addition to Reilly, Cirque du Freak: The Vampire's Assistant stars Ken Watanabe, Chris Massoglia, Josh Hutcherson, Patrick Fugit, and Salma Hayek as, of all things, a bearded lady.
Cirque Du Freak: The Vampire's Assistant, based on the popular series of books by Darren Shan, is a fantasy-adventure about a teenager who unknowingly breaks a 200-year-old truce between two warring factions of vampires. Pulled into a fantastic life of misunderstood sideshow freaks and grotesque creatures of the night, one teen will vanish from the safety of a boring existence and fulfill his destiny in a place drawn from nightmares.
Watch the trailer in high definition over at AOL's Moviefone.