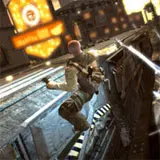 CES isn't known for big gaming announcements yet Sony used the show's timing to unveil the first new PS3 Infamous in-game footage since Leipzig.
I've watched each trailer several times and have some general impressions. First, the good. Using electricity to toss around what appears to be vehicles powered by Havoc proves being bad will likely be the more emotionally rewarding route to take. Hanging off objects like trains and telephone phones while attacking also look rewarding.
The bad: I'm still skeptical of the hero's only offensive moves consisting of varying manipulations of electricity. Several are put on display in the trailer like throwing electricity balls aka "charged grenades," lightning attacks and a ground stomp attack. Nothing shown yet has knocked my socks off.
Sony is likely saving the best for last which is fine by me. Infamous and its large open world that stretches from the top of skyscrapers to underground tunnels should be fun to explore no matter how diverse gameplay pans out to be.