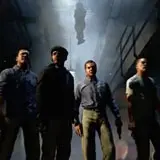 Activision has released a new Call of Duty: Black Ops 2 trailer from the upcoming Uprising DLC Pack. More specifically, the new trailer delves into the Mob of the Dead that stars everyone's favorite decaying cannon fodder, zombies!
In Mob of the Dead, four mobsters find themselves trapped on Alcatraz with a slew of aggressive zombies. The goal is two-fold; stay alive, and ultimately find a way off the island. The second part of that strategy looks to be spoiled in the trailer below, unless what's shown is a failed attempt.
You may recognize some of the names lending their voices to the Mob of the Dead mob-themed human contingent. They include Chazz Palminteri (The Usual Suspects), Joe Pantoliano (The Sopranos), Michael Madsen (Reservoir Dogs ), and Ray Liotta (Goodfellas).
Call of Duty: Black Ops 2 – Uprising that includes Mob of the Dead is coming exclusively to Xbox 360 on April 16.