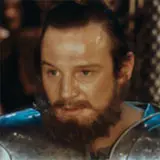 Bryan Singer's hopes of remaking the gritty 1981 film Excalibur have been axed with Warner Bros. opting to move forward on a different King Arthur project instead. Out of the ashes of Excalibur's demise comes the acceleration of another remake project on Singer's plate.
In speaking with SFX recently, Singer confirmed that Warner Bros. had terminated his Excalibur remake project. The reason is the studio had been offered a similar King Arthur-theme project and went with that one instead as it was closer to being ready for production.
When this happened, and it's not entirely clear exactly when that was, Singer went on to say that it allowed him to move directly into developing Battlestar Galactica which he first announced interest in working on approximately two years ago.
Singer had originally tried to relaunch Battlestar Galactica with a sequel series and was only eight weeks away from principal photography when 9/11 happened. The production and its partially built sets were put on hold, with executives ultimately determining the idea of a Cylon attack hit too close to home, thus canning the idea.
Ron D. Moore and David Eick ultimately got their version of Battlestar Galactica off the ground as a commentary to the after effects of 9/11. Singer's new Galactica pitch is not a sequel or spin-off of their version. His project is a feature-film, will be closer to the original Glen Larson's television series from the late 1970s and early 1980s, and will include Larson as a producer.
As a feature film, one would imagine Singer's Battlestar Galactica would employ some nifty visual effects that make the Syfy series look like child's play. I'd wager Starbuck would be a guy again.
Singer's Battlestar Galactica project is still a way's off from becoming a reality, but the death of Excalibur means it appears to be moving in the right direction with the filmmaker's attention firmly focused on it.
Source: SFX