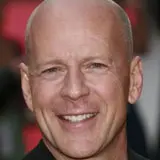 Sylvester Stallone penned The Expendables with Hollywood's biggest and baddest tough guys in mind. Now it looks as if he'll get to add the most notable missing man to his already impressive muscle bound roster.
In speaking with MTV News, Bruce Willis confirmed that he is leaving room in his schedule to film a cameo for The Expendables. He has not seen a script or even talked to Sly about his role, but he expects to hear from the director and friend soon.
When Willis was asked if he would be seen on-screen with fellow action legends Arnold Schwarzenegger and Stallone for the first time ever he replied, "That's the concept," with a grin. "That's the plan."
Willis did not divulge whether he'd share a scene with co-stars Dolph Lundgren, Steve Austin, Terry Crews or Randy Couture. Most fans will be thrilled enough if he shares a single scene, and maybe even a stogie, with Sly and Arnold.