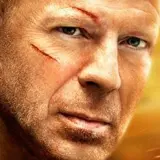 The past few weeks have been busy for Bruce Willis as the grizzled action star has made his way through press appearances for Kevin Smith's new buddy cop flick Cop Out. During these junkets, Willis opened up about the status of a couple rumored future sequels that could potentially be on the actor's plate.
First up was the future of John McClane to which Willis told MTV, "I think we're going to do a 'Die Hard 5' next year." He suggests the project is in the early phases of development, he knows who he wants to direct, and that his contribution to the story will be taking the next Die Hard adventure "worldwide." Could this be the final Die Hard?
Also speaking to MTV, Willis said that he and director M. Night Shyamalan spoke over the holidays and The Last Airbender director is still thinking of filming the once-planned sequel to Unbreakable. Willis calls it a "fight movie" in which he and Samuel L. Jackson would go at each other now having discovered they are mortal enemies.
Though Willis says he wants to make Unbreakable 2, M. Night's schedule might push it back several years. The Last Airbender is part of a trilogy with M. Night currently expected to tackle the second and third installments.