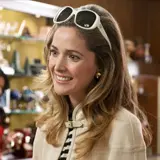 Thor withstood the arrival of Universal's well-received female comedy Bridesmaids and Screen Gems' 3D sci-fi/horror flick Priest to claim the top box office spot for the second weekend in a row. Overall, box office business was down 26% from last weekend and roughly 5% from last year at this time when another Paramount and Marvel flick, Iron Man 2, stayed at number one with a $52 million weekend.
Thanks to a wide screen count (3,955) and higher priced 3D and IMAX 3D tickets, Thor held onto its box office throne quite well in its second weekend as lightning struck twice for the godly superhero. Off 47.5% from its opening, the Kenneth Branagh flick earned an estimated $34.5 million to bring its total to $119.2 million. With nearly $200 million in ticket sales from overseas markets, the film's overall total now stands at $320 million.
Positive word-of-mouth from opening week ticket buyers were the key contributing factor to the less-than-expected drop for this type of film, which is usually in the 50-60% range. Continued word of mouth will be vital for the Marvel superhero's survival over the next few weeks as it faces stiff competition, starting with next week's arrival of Pirates of the Caribbean: on Stranger Tides. Depending on how the God of Thunder withstands the return of Captain Jack Sparrow, the Wolf Pack and the Kung Fu Panda, Thor could finish its domestic run with a healthy $175-180 million.
Update: Studio estimates turned out to be well low for Bridesmaids opening weekend. The finalized opening weekend tally is $26.25 million, almost $2 million higher than what was estimated yesterday. Bridesmaids is now charting a course that could take it to and past the $100 million mark.
Universal Pictures, which has had some pretty good box office success of late thanks to The Adjustment Bureau, Hop and Fast Five, seems to have another hit on their hands with its raunchy R-rated comedy Bridesmaids. Debuting on 2,918 screens, the film scored a solid $24.4 million in its debut for a potent per-screen average of $8,365. Directed by Paul Feig and starring Kristen Wiig (who also co-wrote the film), Maya Rudolph, Rose Byrne, Jon Hamm and Ellie Kemper, it tells the tale of a woman (Wiig) trying to deal with being a maid of honor for her best friend (Rudolph) while also attempting to deal with the bridesmaids in the bridal party.
Produced by Judd Apatow, the $32.5 million production scored with the nation's critics as well as ticket buyers resulting in a 90% positive approval rating on Rotten Tomatoes. Universal's extensive marketing campaign over the past few months helped sell the movie outside of the female demographic to men that wouldn't be dragged to the film by their spouses as part of a "date night." Selling it as a female version of 2009's The Hangover might have also been a big help.
Universal also scored the number three spot this weekend with its sequel hit Fast Five. After falling by a little more than half last weekend, the fifth film in the series eased a moderate 39% in its third go around. The Vin Diesel hit held on in 3,793 theaters to add an estimated $19.2 million to its domestic box office gas tank, which now stands at a huge $168.7 million. It may have a shot at crossing the $200 million mark by the end of its run.
The other wide release of the weekend, the Screen Gems' sci-fi/horror opus Priest, opened with numbers that were far-from-heavenly. Debuting on 2,864 screens (of which over 2,000 were 3D equipped), the Paul Bettany-starring flick earned an okay $14.5 million in its first three days and a mild per-screen average of $5,063. Directed by Scott Stewart and based on the popular graphic novel series, the film is about a centuries-long war between vampires and man and how a legendary warrior named Priest (Bettany) is brought out of retirement to find his kidnapped niece before she is turned into a vampire herself. It was roundly trashed by critics (20% approval on Rotten Tomatoes) and judging by the slight rise in attendance on Saturday, it appears that the target audience of young males wasn't overly thrilled by it either.
Still hanging around in fifth place was Fox's 3D animated comedy Rio which fell by only 6% from last weekend. Still flying on 2,929 screens, Rio added an additional $8 million to its coffers which now stand at $125 million. The popular 3D animated feature still has a chance to finish with $140 million in ticket sales.
Sony's Jumping the Broom jumped 52% less in its sophomore session to land in sixth place. On 2,035 screens, the Angela Bassett-starrer added an estimated $7.3million to its total which now stands at $26 million. Broom should finish with approximately $35-40 million in the bank. Warner's Kate Hudson romantic comedy Something Borrowed also fell by half in its second round to land in seventh place. It has earned $7 million from 2,904 screens to bring its ten-day total to $26 million and should end its run near the $40 million mark.
Eighth place went to Fox's romantic drama Water for Elephants which fell by 32% while adding an estimated $4.1 million from 2,425 theaters. After one month, its domestic total stands at $48.4 million. The movie should fold up its tent and leave town with approximately $55-60 million. Madea's Big Happy Family added $1.8 million from 1,449 theaters to bring its four-week total to the $50 million mark, while Sony's sleeper hit Soul Surfer rounded out the top ten with an estimated $1.8 million to bring its total to the $39 million mark.
Next weekend, only one film will arrive in theaters: Pirates of the Caribbean: On Stranger Tides starring Johnny Depp. The sequel arrives on a whopping 4,000 screens, many of which will be 3D and IMAX 3D and should easily command the box office seas without breaking much of a sweat.
– Shawn Fitzgerald