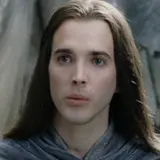 Bret McKenzie, best known for his role as Bret in HBO's 'Flight of the Conchords,' has joined Peter Jackson's The Hobbit production as an elf.
McKenzie is no stranger to J.R.R. Tolkien's Middle Earth. He briefly appeared in The Lord of the Rings: The Fellowship of the Ring as an elf in Elrond's council, and again in The Lord of the Rings: The Return of the King as an elf escort. Fans had dubbed his elf character as 'Figwit,' but he's unlikely to play the same character in The Hobbit.
Production on The Hobbit kicked off on March 21 in New Zealand. Martin Freeman stars as Bilbo Baggins, the Hobbit who sets off on an epic quest to reclaim lost Dwarf Kingdom of Erebor.
The Hobbit: Part 1 is due in theaters in December, 2012 and Part 2 roughly a year later in late 2013.
Source: THR