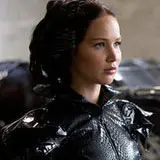 The first trailer for The Twilight Saga: Breaking Dawn Part 2 will debut exclusively in the most logical place it can given Lionsgate's recent acquisition of Summit Entertainment.
On March 23, Lionsgate will attach the Breaking Dawn Part 2 trailer to prints of The Hunger Games, using the influence of the top young adult film franchise to usher in what should easily become the next in line. Every print will have the trailer attached, so Twilight fans out for their Breaking Dawn fix won't have to worry about whether the trailer will appear or not.
The move is a no-brainer for Lionsgate who only stands to profit from leveraging the Twilight pull to put a little extra juice into the first film in The Hunger Games franchise. Fans will flock to see all-new footage of Kristen Stewart, Robert Pattinson and Taylor Lautner in what could be their final Twilight film appearance. Additional Twilight films have been discussed at Lionsgate, but they need a new story from Stephenie Meyer before moving forward.
Breaking Dawn escalated over the weekend when Part 1 debuted on Blu-ray and DVD at midnight on Friday. Select Target stores ran an exclusive clip from Breaking Dawn Part 2, the first footage released publicly from the film. Watch the Breaking Dawn Part 2 clip.
Sales of Breaking Dawn Part 1 on Blu-ray and DVD are expected to meet those of Eclipse. The first sales statistics should be released early this week.
The Twilight Saga: Breaking Dawn Part 2 opens in theaters everywhere on November 16, 2012.
Source: LA Times