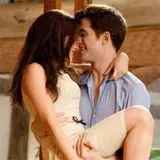 The Twilight franchise and its stars Kristen Stewart, Robert Pattinson and Taylor Lautner have crossed another as it winds down toward the concluding chapter, The Twilight Saga: Breaking Dawn Part 2.
Through Monday, The Twilight Saga: Breaking Dawn Part 1 has earned $701.3 million at the worldwide box office, the second film in the series to cross the $700 million mark. It should eclipse (pun intended) the $709.8 million put up by The Twilight Saga: New Moon back in late 2009 and early 2010 after releasing in China and Japan.
The news was distributed on official Lionsgate letterhead, the first communication from the studio after purchasing Summit Entertainment. The Lionsgate logo should appear on the first trailer for Breaking Dawn Part 2 when it is released in the coming months. It remains unclear whether the Breaking Dawn Part 1 Blu-ray and DVD due in stores next month will include the Lionsgate logo on the cover art or preceding the film.
The Twilight Saga: Breaking Dawn Part 2 is widely expected to be the top Twilight earner when all is said and done. Anticipation for the final Twilight film based on the final Stephanie Meyer book will be building throughout the year toward its November 16, 2012 release date.