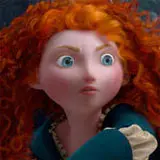 Pixar's Brave slayed the beast at the box office on Friday, easily topping fellow newcomer Abraham Lincoln: Vampire Hunter in its first step toward an easy opening weekend victory.
Opening at 4,168 theaters, 2,790 equipped to handle 3D, Brave blew up on Friday with an impressive $24.5 million opening day. That is right in line with the $25.7 million Cars 2 put up last summer without the benefit of an established brand. If business is strong Saturday and Sunday, which it should be, Brave should cap its opening frame right in the range of estimates, somewhere between $60 and $65 million.
Fox didn't fare anywhere near as well with the violent chop-em-up Abraham Lincoln: Vampire Hunter starring Benjamin Walker and Dominic Cooper. With 3,106 theaters, 2,497 with 3D to play with, Abraham Lincoln didn't have much hunting down audiences with only $6.3 million. What was once considered to be a $20 million opener must now claw tooth and nail to reach $17 million.
Madagascar 3: Europe's Most Wanted is still wanted in coming in just behind Abe and his vampires with $6.1 million. That's not bad considering it is entering its third weekend of release and had Brave to steal family audiences. The total gross is now at $143.5 million and should challenge $150 million through Sunday.
Fox's Prometheus took fourth place with $2.9 million, enough to cross $100 million domestically with $101.4 million.
Rounding out the top 5 was the Tom Cruise-headlined musical Rock of Ages with $2.5 million. With only $23.3 million through 8 days, look for Cruise and company to rock their way to Blu-ray and DVD as soon as legally possible.
Check back tomorrow for the complete weekend box office studio estimates to see if Brave picked up enough matinee business to breach $65 million.
Read our Brave review.