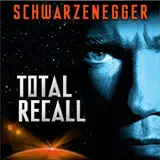 You have probably seen countless ads for the August 3 release of Len Wiseman's Total Recall remake starring his wife, Kate Beckinsale, along with Colin Farrell, Jessica Biel and Bryan Cranston. Not to be forgotten is the original Total Recall starring Arnold Schwarzenegger. Believe me, Lionsgate hasn't forgotten it.
On Tuesday, July 31, Lionsgate is releasing a new "Mind-Bending" edition of the original Total Recall on Blu-ray to take advantage of the remake's arrival. With and SRP of only $14.99, we would expect the price to come in somewhere in the neighborhood of $11.
Amazon.com has gotten aggressive with their Total Recall Blu-ray pre-orders and has dropped the price down to $7.99 just a few days before its release. The result is Total Recall has catapulted right up to the number one position on Amazon's Blu-ray bestsellers list.
I don't know how long this Total Recall Blu-ray deal will last. For now, it's one worth taking a hard look at if you were planning to add it to your collection.
Click here to pre-order Total Recall on Blu-ray for $7.99 at Amazon.com.