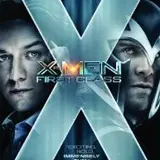 Amazon.com's Blu-ray bestsellers chart is unusually chock full of previously released titles thanks to a number of Black Friday week sales prices that are proving too good to pass up. Click any of the disc titles in this article to take advantage of the Black Friday prices.
The biggest right now is Fox's X-Men: First Class starring Jennifer Lawrence, Kevin Bacon, James McAvoy and Michael Fassbender for only $9.99. That's a huge $75 percent off its list price and good enough to take the top bestsellers spot.
On the big Blu-ray box set sales front are Peter Jackson's The Lord of the Rings Trilogy: Extended Editions for only $49.99 or 58 percent off the $119.98 list price, Jurassic Park Ultimate Trilogy for $29.99 or 63 percent off the $79.98 list price, The Lion King Trilogy for $69.99 or 30 percent off the $100 list price, The Bourne Trilogy for $23.99 or 66 percent off the $69.98 list price, Harry Potter: The Complete 8 Film Collection for $79.99 or 43 percent off the $139.99 list price, and Star Trek: Original Motion Picture Collection for $39.99 or 60 percent off the $99.99 list price.
From Paramount you can pick up Transformers: Dark of the Moon on Blu-ray and DVD combo for $17.49, the True Grit remake for $10.99, or The Fighter with Christian Bale and Mark Wahlberg for $10.99.
New Amazon Black Friday week Blu-ray deals will be popping up over the next several days including Mad Men later today, and I'll be sure to pass them along as they become available.