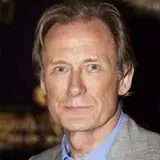 A little less than a week ago a reporter coaxed Bill Nighy into revealing he had joined the cast of Harry Potter and the Deathly Hallows but stopped short of confirming which character he would play.
Forced to face the press again at a book festival launch, Bill caved while speaking to reporters and revealed his character. Sometimes the obvious choice is the correct choice and this is no exception.
"I will be Rufus Scrimgeour, who is the Minister of Magic and he is a very very important man," said Bill. "I am no longer the only English actor not to be in Harry Potter and I am very pleased." We are all very pleased as well. Bill's screen presence demands attention and is a perfect fit in the Potter universe.
You'll have to wait until November 2010 when the first half of Harry Potter and the Deathly Hallows will arrive in theaters to see Bill as Scrimgeour. The second half, and final Potter film, is scheduled to bow the following June.