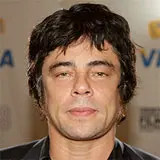 Benicio del Toro has caught the keen eye of J.J. Abrams and could be well on his way to joining the director's next big project. If he gets it, he'll join some esteemed company.
Variety is reporting that Abrams has met with Benicio in regards to the villain role in the director's upcoming sequel Star Trek 2. Insiders have told Variety that Abrams did not reveal much about the character to keep him a secret, but has already decided that Benicio is the right man for the job. An official offer could be extended to Benicio as early as this weekend.
Abrams only recently committed to directing Star Trek 2 long after Alex Kurtzman, Roberto Orci and Damon Lindelof began working on the story and screenplay. With the Enterprise crew lead by Chris Pine ready to return and a director in place, the time has come to start filling out the other roles ahead of production.
Early unconfirmed rumors suggested Star Trek 2 might bring back the Khan character made famous by Ricardo Montalban in Star Trek II: The Wrath of Khan. Since that rumor came and went, there have been no leaks about who the Enterprise will go up against next.
I have a hard time imagining Benicio del Toro as Khan, especially after Montalban's inspired performance. But I can totally picture him as a Klingon adversary for Kirk and his mates once the full makeup was applied.
Benicio del Toro's reputation took a bit of a hit after he appeared as the lead in Universal and Joe Johnston's critically panned The Wolfman. He'll next be seen in Oliver Stone's Savages alongside Blake Lively, John Travolta and Salma Hayek.
Source: Variety