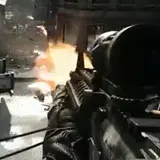 Battlefield 4 from developer DICE and publisher Electronic Arts had its coming out party at the Game Developer's Conference (GDC) today, and what was shown has also been shared online for the world to see.
Rather than distribute a brief teaser trailer, EA and DIC have released a 17-minute stretch of gameplay footage plucked from the single-player campaign. It's guaranteed to impress visually compared to Battlefield 3 and other similar genre titles, but does raise a few questions about the experience of actually playing the game.
The gameplay segment is called "Fishing in Baku" and begins with a squad of soldiers trapped in an upside down submerged car as it sinks into the bottom of a presumably large body of water. As the point-of-view soldier aims his gun at the windshield and pulls the trigger, the action cuts back to 13 minutes prior and the events that led up to that moment.
At this stage of development on what we can only surmise is a PC demo and not indicative of the console presentation, Battlefield 4 blurs the line between cinematic and gameplay. Visually the environments are insanely detailed from nuances in the paint on walls to a massive flock of birds flying overhead. The new Frostbite 3 engine is certainly pushing the boundaries of photorealism in gaming.
There are times in the footage where it feels more like watching a movie than playing a game, long stretches of exposition that some gamers might take offense to. The counter to this argument is heavy action games need breathers. Either way, one group is bound to be disappointed. As Patrick Soderlund, Executive Vice President, EA Games Label stated in a morning press release, "As artists and craftspeople, we are focused on creating a dynamic, open design that brings people together with amazing, surprising unscripted moments that they'll talk about for days."
Right now Battlefield 4 is confirmed for release on Xbox 360, Playstation 3 and PC this fall. A Wii U version has not been announced. I would say the odds of an appearance on Playstation 4 and the next Xbox late this year are a distinct possibility.
Electronic Arts is offering a free premium expansion pack for Battlefield 4 if you lock in an early pre-order.
Click here to pre-order Battlefield 4 for Xbox 360, PS3 or PC at Amazon.com.