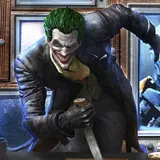 Update: Amazon.com is now taking pre-orders for the Batman: Arkham Origins Collector's Edition on PlayStation 3 and they have sold strong enough to crack Amazon's top 20 bestsellers in video games chart.
Click here to pre-order Batman: Arkham Origins Collector's Edition at Amazon.com.
Warner Bros. Interactive has unveiled the Batman: Arkham Origins Collector's Edition that is coming exclusively to Xbox 360 and PlayStation 3 on October 25 when the standard edition is released. Also revealed is the PS3 version of the Collector's Edition will come with a piece of content that the Xbox 360 version will not.
Priced at $119.99 for either console, the Batman: Arkham Origins Collector's Edition comes with the following goodies in addition to the inclusive game.
Exclusive Arkham Origins highly detailed Joker premium statue featuring LED effects produced by TriForce: Height: 9″, Depth: 11.5″, Width: 13″
80-page, full-color hardcover art book measuring approx. 7.5″ x 10.75″ x .5″
2 key pieces of evidence taken directly from the Gotham City Police Department crime lab
Batman Wanted Poster
Batwing Prototype Schematic
Anarky logo stencil
Glow-In-The-Dark map of Gotham City
Wayne Family Photo
Assassin's Intel Dossier, including files on the 8 assassins, as well as Black Mask's contract
1st Appearance Batman Skin: Look just like Batman did during his first appearance in Detective Comics #27, released in 1939.
Deathstroke Challenge Pack – Unlock the ability to play as one of the world's deadliest assassins! Usable throughout all the Arkham Origins Challenge maps. Also includes two bonus challenge maps and two bonus Deathstroke Skins.
Bonus (not available in Australia / New Zealand): Necessary Evil: Super-Villains of DC Comics – This new feature-length documentary from Warner Bros Home Entertainment focuses on DC Comics' most terrifying villains. Legendary actor Christopher Lee narrates the film.
PS3 Exclusive: Knightfall pack
This post will be updated with the pre-order link (update: the pre-order is now available) for the Xbox 360 and PS3 versions of the Batman: Arkham Origins Collector's Edition as soon as they are available. Click the image below for a big high resolution look at the set contents.