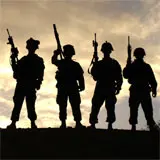 Amazon.com has begun taking pre-orders for one of this upcoming holiday season's biggest Blu-ray Disc releases, Band of Brothers, set to arrive in a six-disc set on November 11.
The case for Band of Brothers on Blu-ray is identical to what was used for the DVD set. The difference is a partial sleeve has been added to denote the set is Blu-ray, and also reveals a pair of Blu-ray exclusive supplements to look forward to.
In the Words of Easy Company will provide interviews and commentary from the surviving members of Easy Company via picture-in-picture.
In the Field with the Men of Easy Company is described as an interactive field guide featuring timelines, maps, soldier profiles and more.
Lastly, the sleeve states episodes have been digitally remastered and will include DTS audio. We take this to mean lossless DTS-HD Master Audio, otherwise why promote it?
Band of Brothers on Blu-ray carries an SRP of $99.99 but you can secure your pre-order copy right now at Amazon.com for only $69.95 by clicking here.