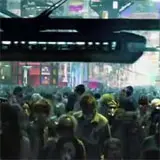 Yesterday Fox formally announced James Cameron's Avatar: Extended Collector's Edition is coming to Blu-ray Disc on November 16 here in North America. With that announcement came the promise of 16 minutes of never-before-seen footage including an alternate opening set on Earth.
The first glimpse of that opening has hit the Internet in the form of a trailer for the upcoming Blu-ray and DVD release. Earth is clearly alive but not necessarily well judging by the breathing masks everyone is wearing. Several of the other new scenes are scattered throughout the trailer so it is definitely worth a look.
The only version of the trailer I could find to embed is the German one below. You'll have to hop over to Hero Complex to watch the English version.
Pre-order Avatar Extended Collector's Edition on Blu-ray for $34.99 at Amazon.com.