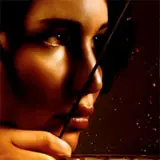 Another day, another poster for The Hunger Games. That is sort of what it feels like with each new piece of marketing material Lionsgate cranks out in support of the upcoming film.
As with every other The Hunger Games, this new one is all about Katniss Everdeen (Jennifer Lawrence) and flames. Lots of flames, as the case may be, and an arrow ready to strike its target.
Lionsgate is banking on Lawrence to sell the film as Josh Hutcherson and Liam Hemsworth, the other two big leads, have been nearly absent from promotional imagery. Hutcherson did get some exposure on the first theatrical one-sheet, but he's once again absent on this new IMAX banner.
The Hunger Games stars Jennifer Lawrence, Josh Hutcherson, Liam Hemsworth, Woody Harrelson, Donald Sutherland, Elizabeth Banks, Willow Shields, Lenny Kravitz and Stanley Tucci. The game will being on March 23, just a little over a month from now, and bring with them the first Breaking Dawn theatrical trailer.