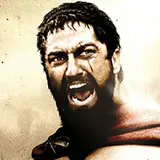 Variety.com is reporting Legendary Pictures, the studio currently developing a remake of Clash of the Titans, has confirmed a follow-up to 300 is currently in development for Warner Brothers and is a "top priority" to complete.
Graphic novelist Frank Miller is once again penning the script and director Zack Synder will return behind the lens to direct.
Most of the cast was killed in 300 including star King Leonidas, played by Gerard Butler. This raises the question on whether the follow-up will be a prequel with familiar characters or a sequel with an all-new cast. Speculation is sure to run rampant until Miller delivers his treatment.
The news comes after confirmation a second edition of 300 is coming to Blu-ray Disc later this year that will include, at the very least, all the features found on the HD DVD and omitted on the original Blu-ray.