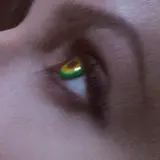 Angelina Jolie hopes to strike fear in those amongst her playing a live-action version of one of Disney's most reviled villains in Maleficent.
Disney sent out a press release earlier today stating production on Maleficent got underway last week on the film. To help spruce up the announcement, the Mouse House shared the first image from the film revealing Jolie in all her evil sorceress glory.
Maleficent was the villain in Disney's 1959 animated classic Sleeping Beauty. The live-action film is a prequel to the events of Sleeping Beauty that will tell the untold story of what drove Maleficent to her evil ways and ultimately to curse baby Aurora.
Co-starring with Jolie in Maleficent are Elle Fanning (Super 8), Sharlto Copley (District 9), Imelda Staunton, Sam Riley, Juno Temple, Miranda Richardson and Lesley Manville. Robert Stromberg is behind the camera for his first-ever directorial stint, having previously won production design Oscars for Avatar and Tim Burton's Alice in Wonderland.
You'll get to see Angelina Jolie take a turn as a villainess when Maleficent opens in theaters in 2D and 3D on March 13, 2014 (as in nearly two years from now). Click the first image of Angelina Jolie as Maleficent below to view a high resolution version.