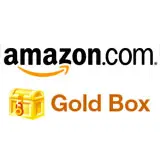 Update: the deals are now live. We were beginning to wonder if Amazon.com was going to schedule one more high-def tilted Gold Box sales day before the book closed on 2008. Now that we know that day is tomorrow, curiosity is building as to what PS3 and Blu-ray goodies will be included.
First, a quick refresher for you Gold Box newbies out there. Gold Box deals at Amazon happen every day and are usually grouped around a theme. The first deal is available all day long until supplies run out or the day comes to an end.
The remaining deals are called "lightning deals" and typically appear every hour. They last until the next deal is ready to launch or the item sells out.
Tomorrow's Gold Box deal is confirmed to include either Playstation 3 games or Blu-ray Disc movies. But what will they be?
Our forum moderator Spideybat passed along what may or may not be pretty clear hints as to what tomorrow's deals will be. Our speculation based on the hints are in parentheses.
6-10am – Gooooal! (FIFA '09 or PES 09 PS3 game)
10-11am – Hell hath no fury like this brother scorned. (MGS4 or DMC4 PS3 game)
11-12pm – 60% off these classic stop-motion monster movies in high-def (Ray Harryhausen Collection Blu-ray)
12-1pm – No tombs were harmed in the raiding of this underworld. (Tomb Raider Underworld PS3 game)
1-2pm – Mamma Mia, here I go again / My my, how can I resist you? (Mamma Mia! Blu-ray)
2-3pm – Iceland has research facilities? (Journey to the Center of the Earth Blu-ray)
3-5pm – Keep the kids entertained in high-def (Kung Fu Panda, Wall-E or Madagascar Blu-ray)
5-6pm – Watch Spidey in high-def (Spider-Man Trilogy Blu-ray)
6-10pm – Kage bunshin no jutsu! (Naruto Ultimate Ninja Storm PS3 game)
If they turn out to be legit then there should be some good deals to be had.
You can visit the Gold Box page at Amazon where the first all-day deal will appear by clicking here. Additionally, the lightning deals are below running in real-time.