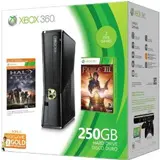 Coming up at 12pm EST/9am PST at Amazon.com is a Cyber Monday 2011 deal for an Xbox 360 with a little added incentive thrown in for good measure.
The deal, which I don't have a price for just yet, includes an Xbox 360 Holiday Value bundle with a $100 credit toward a future purchase at Amazon.com. The bundle includes Halo Reach and Fable 3 for $299.99 normally. My best guess is the price will remain the same and the big $100 credit is the deal portion for Cyber Monday.
Click here to view the Amazon Cyber Monday video games deal page where this promotion will show up.
If that sells out quickly, which it likely will, Amazon is also offering a Kinect bundle with three games for $99 for those who already own or have purchased an Xbox 360.