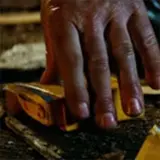 Paramount this morning released the fourth and final chronological clip this week from J.J. Abrams' Super 8. To make watching them easier for you all, I've embedded each below in the correct order.
The Super 8 clips begin with the train crash that is witnessed by a group of kids filming a zombie movie and end with the military arriving on the scene and chasing the kids away. Not only have the kids seen too much, but they recorded the "accident" on a super 8 camera. We learn the military knows this and will likely take action to secure the footage.
Over at FirstShowing, Alex has published a new Japanese Super 8 poster that evokes strong inspiration from Steven Spielberg's Close Encounters of the Third Kind and includes the tagline "we are not alone." It all but confirms that Super 8 will end with an otherworldly visit.
Today Super 8 reaches the three week mark until its released. Paramount and Abrams have done a fantastic job thus far keeping the film's antagonist and much of the plot a mystery. Hopefully they can continue to do so until the first public screening.
Super 8 arrives in theaters on June 10.