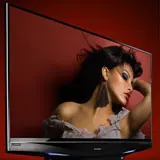 Mitsubishi has released some additional details on the highly-anticipated fall 2008 debut of the LaserVue (i.e. DLP Laser TV) 3D-ready line.
The first model to ship from the manufacturer will be 65″ diagonally. The second model, a Diamond, will ship shortly thereafter at a larger 73″ size.
LaserVue TV has been designed to produce *twice* the color of LCD and Plasma sets while requiring only a one-third the power consumption of Plasmas and one-half of LCDs.
LaserVue brightness has been clocked at 500 nits, and additional features include Smooth 120hz and x.v. Color.