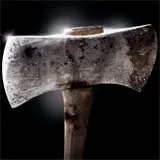 Thanks to an early listing at DVDEmpire.com, we have learned that Anchor Bay/Starz is planning to release the unrated director's cut of Adam Green's Hatchet on Blu-ray Disc September 7.
Hatched first appeared on DVD back in December 7 and instantly became a modern cult classic. The film pays homage to the excessive gore and cheeky humor in 80s slasher films, and even features three of the decade's biggest killer stars: Kane 'Jason' Hodder, Robert 'Freddy Krueger' Englund and Tony 'Candyman' Todd.
Hatchet: Unrated Director's Cut on Blu-ray will carry a list price of $29.97. No other details are available at this time but I'll be sure to share them when they cross my desk.