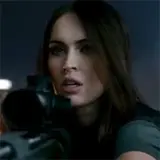 Activision had made a habit of employing celebrities into their annual live-action Call of Duty launch trailers, and this year they tapped Megan Fox to help promote the latest game in the franchise, Call of Duty: Ghosts.
The trailer is dubbed 'Epic Night Out' and features four buddies going on a road trip to Las Vegas. Only once they get there Vegas is a war zone and the guys, with their dog, are immediately attacked by a helicopter and scores of enemy soldiers.
Before long the group runs into Megan Fox on the roof where she's got a sweet sniper rifle and is going about her business. One of them tries to hit on her and she ends up taking out a flying drone right behind the guy instead. Fox is all business, apparently, and she looks good dressed suspiciously similar to Lara Croft.
The guys end up jumping off a building, fighting in space, and in a truck chase in the arctic or some place that looks like the arctic. Sharing a gun clip in a no-gravity environment is a neat trick if it makes it into the game.
The action eventually ends up back in Vegas where the same chap who hit on Megan Fox takes down the helicopter with a rocket launcher. All in a day's work, apparently.
"There's a Soldier in All of Us" when Call of Duty: Ghosts officially releases this upcoming Tuesday, November 5 on Xbox 360, PlayStation 3, Wii U and PC. The Xbox One and PS4 versions will be released on the launch days of those consoles in a few weeks.