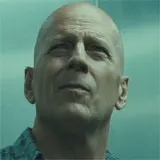 Terrorists are running rampant in Moscow, Russia, and unfortunately for them, they have a thing against "cowboy" Americans while John McClane is in town. Two McClanes are needed to take down this band of baddies in the second full-length trailer for A Good Day to Die Hard.
Bruce Willis returns for his fifth turn as officer John McClane, a NYC cop who always finds himself in the wrong place at the wrong time. This time McClane heads overseas to Russia where his son Jack (Jai Courtney) is working as a CIA officer. Together they will team up to spew bullets and witty wise cracks at a breakneck pace to save Russia and the world from nuclear-armed terrorists.
One of the biggest action set-pieces in A Good Day to Die Hard involves an attack helicopter going after the McClanes in a tall building. John and son evade the copter by jumping off one of the top floors, one of several homages to the original Die Hard you can spot in the new trailer. It wouldn't be a "Die Hard" film without John taking an elevator ride.
A Good Day to Die Hard is directed by John Moore and aims to bombard theaters on February 14, 2013.