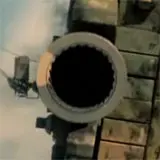 Just when you thought The A-Team movie clips were done, Yahoo! Movies adds not one, not two, but five more clips from next weekend's big-screen reimagining of the 1980s television series.
The first two clips feature the parachuting tank and reveal that sequence is a lot longer than previous footage of it suggested. Viewed as a whole, the clips give good screen time to all The A-Team members: Liam Neeson as Hannibal, Sharlto Copley as Face, Quinton 'Rampage' Jackson as B.A. Baracus and Bradley Cooper as Face. Jessica Biel as Charisa Sosa gets her moments as well.
The more I see of The A-Team, the more excited I get for the full finished film. Everything Fox has released thus far matches the insanity and, as importantly, the fun of the original series. Aside from the obvious new cast, the biggest difference is the film has a much bigger budget to splash around in.
The A-Team deploys on June 11 in theaters everywhere.