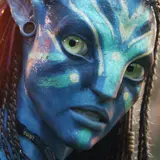 Fox's Blu-ray 3D version of James Cameron's Avatar won't become available exclusively to buyers of Panasonic 3D HDTV hardware until December 1. Those owners, and any Blu-ray 3D adopter for that matter, can get a sweet taste of what that disc will offer right now.
A post over at AVSForum points out a pair of 3D bonus features are available as Easter Eggs on the third disc of Avatar: Extended Collector's Edition on Blu-ray. Curious to see these for myself I popped in the third disc just now, moved to the far right of the main menu and then clicked right again. Sure enough 3D options came up for the Avatar Trailer and Pandora Discovered featurette.
After being prompted to don and activate 3D glasses, the 3:30 extended Avatar trailer played and immediately took me back to the memorable 3D experience when seeing Avatar theatrically. The 3D imagery looks just as good at home – if not better – and demands multiple back-to-back viewings.
Before wearing out the trailer I checked out the 4:04 Pandora Discovered featurette which is comprised almost entirely of 3D footage from the film. The only part not from the film is a quick introductory heads-up display of Pandora's system that looks real enough to reach out and touch. After that, a variety of scene snippets play while Sigourney Weaver as Dr. Grace Augustine narrates an educational tour about Pandora, its inhabitants and eco-system.
Blu-ray 3D adopters out there that don't own Panasonic sets and were worried about being shut out from Avatar on Blu-ray 3D can now rejoice. A 7-minute taste is a whole lot better than sitting out the highest grossing movie of all time because you chose a different HDTV manufacturer.
For more on the Avatar: Extended Collector's Edition, check out our interview with Avatar producer Jon Landau.
Purchase Avatar: Extended Collector's Edition on Blu-ray for $24.99 at Amazon.com. Trust me; this three-disc is worth every penny even before the knowledge of hidden 3D footage.