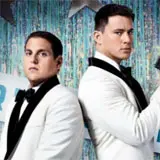 Sony's 21 Jump Street proved moviegoers were in need of a good laugh. The R-rated comedy starring Channing Tatum and Jonah Hill easily took the top spot at the North American box office, pushing the well-reviewed The Lorax down to second place where it continued to bring in the big bucks. Disney's pricey underperformer John Carter fell back to Earth in third.
For the first time in a while, the top ten was actually down instead of up. Blame a lack of fresh product or the start of NCAA's March Madness, but the top ten was down 20% from last weekend and 7% from last year at this time.
After months of aggressive marketing that included advanced screenings, multi-city promotional tours and a "Tweet-Off" between Johan Hill and Channing Tatum, 21 Jump Street arrived in 3,121 theaters on Friday to earn a great $35 million in its first three days, a record opening for an R-rated comedy not released during the summer.
Strong reviews (88% approval rating on Rotten Tomatoes) helped the $42 million film connect with those outside of its targeted audience demographic of males 25 and under. The movie, a comedic take on the late 1980s crime show that starred Johnny Depp and Peter DeLuise, was directed by Phil Lord and Chris Miller (Cloudy With A Chance of Meatballs) and written by Michael Bacall and Jonah Hill. Hill and Tatum also served as executive producers on the project.
After two weekends at the top spot, Universal's smash hit The Lorax stepped aside for the arrival of 21 Jump Street. Still hanging around on 3,769 screens, The Lorax eased 41% to add an estimated $22.8 million to its already huge total now standing at $158.4 million.
The financial woes continued for Disney's John Carter this weekend as the movie crumbled 55% from its disappointing domestic debut. While the film held onto its 3,749 screen count, it could only muster $13.5 million, a sign that word-of-mouth from opening weekend ticket buyers was mixed at best. After ten days, Carter has earned $53.1 million and could land with $70-75 million for a final domestic gross. While not the outright disaster that last year's Mars Needs Moms was, the Mouse House could be looking at a sizable write-off when all is said and done.
The remainder of the top ten consisted of leftovers. In fourth place was Warner's "found footage" comedy Project X, which got the wind taken out of its money-making sails by the arrival of 21 Jump Street. For the weekend, the controversial comedy dropped a steep 64% while earning an estimated $4 million from 2,922 theaters. Its three-week total now stands at $48 million, and it may party its way to a final gross of $55-60 million.
You know movie going has quieted down when a film like A Thousand Words manages to stick around in the top five despite a dreadful opening last weekend (that landed it in sixth place). In its second go around, the film sustained a minimal business drop of only 39%. While that figure is good, the limp $3.75 million gross from 1,895 theaters is hardly worth celebrating. After ten-days, Eddie Murphy's latest live-action dud has earned a dreadful $12 million and may limp its way to a final haul of $20 million.
The remainder of the top ten is as follows:
6. Act of Valor (Relativity) $3.6 million (-42%) $62.4 million to date
7. Safe House (Universal Pictures) $2.8 million (-41%) $120.2 million
8. Journey 2: The Mysterious Island (Warner/New Line) $2.4 million (-32%) $95 million
9. Casa De Mi Padre (Lionsgate Films)
Debuting on 382 screens and boasting the second best per-screen average in the top ten ($5,759), Will Ferrell's Spanish-speaking low budget comedy withstood some savage reviews from critics to draw out fans to the tune of $2.2 million in estimated sales.
10. This Means War (Fox) $2.125 million (-43%) $50.5 million
Next weekend, Lionsgate will rake in the big bucks when they release the long-anticipated The Hunger Games on over 4,000 screens. It is expected to at least triple the business of whatever 21 Jump Street can muster in its second weekend frame.
– Shawn Fitzgerald